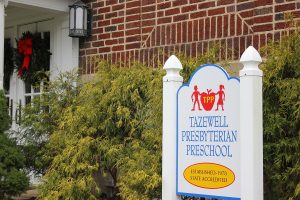 Tazewell Presbyterian Church believes that the formative years (0 – 4) are a critical period in the physical, social, emotional, and cognitive development of a child and are indicators of the child's future feeling of well-being and adjustment in society.  It is our purpose at TPC Preschool to provide a quality child-centered program for three and four year olds that stimulates their growth and development. Research indicates that young children profit socially, intellectually and emotionally by group experiences in preschools and kindergartens. Language is aided; creative thinking is stimulated; such traits as resourcefulness and initiative are encouraged; skills of self-discipline and group participation are fostered.  For over 40 years, we have educated and prepared hundreds of youth who have become productive citizens in the community.
General Program Goals and Information
To provide many opportunities for social development
To provide opportunities for self-expression and creativity as stimulated through language, music, art and play experience.
To promote development of good health and safety habits.
To teach appropriate standards of conduct in work and play (i.e., respect property of others: use not abuse).
To provide situations in which the child can succeed, and through success build confidence in his/her own ability and worth.
To work independently and in a group.
To sense strength and worth in self.
To love learning, a whetted appetite for discovery.
To respect and identify with home, God and country.
To enable and identify the expression of different feelings appropriately.
To listen and follow directions.
To complete a task and take pride in it.
Our teachers
(Hiring)
PHOTO GALLERY
                                                      Hours:
| | | |
| --- | --- | --- |
| Classes: | Age 4 | 8:15 to 12:00 Monday, Tuesday, Wednesday, & Thursday |
| | Age 3 | 12:30 to 3:00 Monday and Wednesday |
| | | |
| Tuition: | Age 4 | $175 registration fee and $175 monthly |
| | Age 3 | $100 registration fee and $100 monthly |
For questions, registration or other information call 276-988-5108!